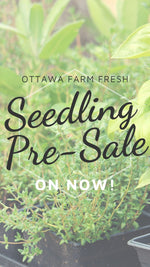 The 2nd Annual Ottawa Farm Fresh Seedling Sale Is On!

Fill your home garden with top quality, farm-grade, organic vegetable seedlings grown right here at Ottawa Farm Fresh. There is no better way to get your vegetable garden off to a roaring start!
Jonathan and Jolianne have spent more than a decade growing vegetables and they know the importance of strong, vigorous, well-tended seedlings for success. All of your garden seedlings are being grown right alongside the plants we grow for the Farm, so you know they are top-quality. We settle for nothing short of perfection here at Ottawa Farm Fresh, and neither should you!


There are limited quantities of all of the seedlings and once they are gone, they're gone. So don't delay, get your garden stocked today!
We have a treat for everyone - 10% off of all seedlings until April 1st! Just enter code SEEDLINGS10 at checkout to save!

Click here for the Seedling Sale
How the Seeding Pre-Sale Works:
As with everything at Ottawa Farm Fresh, we've made the seedling pre-sale super flexible! Pick up will happen over three weekends so that you can order and collect based on your garden plans. Feel free to order plants for pick up over a variety of weekends.


Step 1:
Choose the vegetables, herbs, and flowers you'd like to grow
Step 2:
Select the weekend you would like to pick your plants up. May 20-21, May 26-28, or June 2-4.
Step 3:
Make payment and receive your confirmation email.
Step 4:
Book your pick up time slot via Calendly. In order to keep things running smoothly and minimise wait times we are asking everyone to book a pick up slot. The time slots are 45 minutes long and you can arrive at any time during that time slot. Please make sure that you book your pick up time to correspond with the weekend you chose at check out.