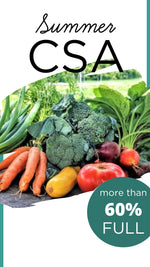 Can you believe that the Summer CSA starts in just twelve weeks?
It might sound a long way off, but before we know it the fields will be filled with the verdant abundance of spring and our bodies will be craving all things fresh and crunchy! We're already more than half way to our member target for the season, so if you've been planning to renew your CSA membership we encourage you to reserve your spot soon!
Did you know that this year we've made the CSA even more flexible, offering two different season lengths? Now you can register for the full Summer and Winter season all at once, or just stick to the Summer only option and then decide on the Winter CSA later in the season. You still have unlimited vacation weeks, flexible payment options, and the ability to fully customise your basket contents every week, no matter which season length you choose. It's just one more way we're making the Ottawa Farm Fresh CSA the most flexible vegetable basket subscription in the city!
Click here to learn more about our CSA program and register today!