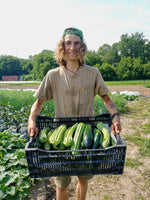 We are now only nine weeks away from the May long weekend, which is the traditional outdoor planting weekend here in Ottawa. 
Even though it's still too early to get gardening outside, there are lots of garden tasks that you can begin inside right now to set your garden up for great success this season!
Decide What You Want To Grow
There is nothing better than sitting inside on a chilly winter evening pouring over seed catalogues, dreaming of the garden to come! What are some things you should consider?
Secure Your Seeds & Seedlings
Hit the ground running once the elements are right for planting outside by getting prepared well in advance. Secure your seeds and seedlings well in advance, particularly if you are planning to start any seeds indoors.

You still have lots of time to start tomatoes, cucumber, zucchini, squash, and herbs from seed.

If you are looking for seeds we would recommend Northern Seeds. Catherine's seeds are organic, non-GMO, and selected for success in our short growing season.
Looking For Seedlings? Our
Seedling Pre-Sale
is for you! We have a great selection of organically grown and lovingly tended seedlings that will be ready for planting in your garden from the May long weekend on.

Avoid the madness of the garden centre on the May long weekend! Pre-order your seedlings and come to the Farm during your pre-booked time slot to pick them up.
Make sure to get your orders in before April 1st using the code SEEDLINGS10 to save 10% on all of the seedlings! 
Put Together Your Garden Maintenance Plan
A successful garden requires planning and maintenance, and now is a great time to get all of those daily, weekly, and monthly tasks scheduled. What kind of tasks are we talking about? Irrigation, weeding, plant care, pest control, succession planting, as well as storage and preservation plans
If you're not sure where to start join us tonight (March 23) for our final Farmer to Gardener Academy webinar where we'll be talking about garden care! Cick here to register and join us tonight!