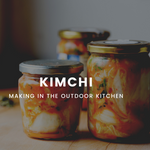 You and Me Make Kimchi this Saturday!
Jonathan gets so stoked when talking about lacto-fermentation we just had to share how to make kimchi & sauerkraut with YOU!
That's why we've set up demos at the on-site Farm Store for the next few Saturdays! Starting with Kimchi this Saturday September 3rd at 11:30am - 1:30pm.
-->Grab all the ingredients you need from the Farm Store and learn (from farmer chef, Jonathan) how to make your own. 
Kimchi, a Korean-style fermented cabbage is a spicy superfood: a probiotic which is good for you and your gut microbes. 
There is nothing like Kimchi made from farm veggies! Kimchi goes great with Korean BBQ, on grilled sandwiches, in green salads, breakfast scrambles, or on hot dogs and burgers. 
We are also throwing a Carrot Harvesting Party October 10th!
Here are the dates to add to your calendar...
Saturday October 3rd: You & Me Make Kimchi
Saturday October 10th: Carrot Harvesting Party
Saturday October 17th: Sauerkraut Demo