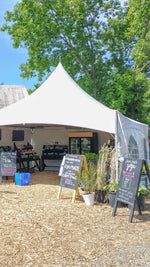 After being closed for 200 days we are delighted to be opening again for the 2022 season on Thursday, May 19th!
What can you expect during our season opener?
* Spring veggies galore!
* Gardening supplies
* Organic vegetable, herb & flower seedlings
* Seeds from local seed supplier Northern Seeds
* Seedling and Gardening Supply pre-order pick up, May 20 & 21
Make sure you've booked your spot if you've pre-purchased seedlings!
* The first of our new weekly Tai Chi/Qi Gong classes with Hiromi McPhail, Thursday May 19 at 6pm
Free for Farm Members, $15/class for non-members
Get Tickets
*The first Farm Fresh Yoga class of the season, Saturday May 21 at 9am
Free for Farm Members, $15/class for non-members
* Field Walk & Talk with Farmer Jo, Saturday May 21 at 3pm
Learn more about how and why, and what we grow, get to know Farmer Jo, and get your gardening questions answered face to face!
* Maple Mint Sparkling Lemonade, Sage & Mint Sparkling Herbal Elixir, and Kombucha on tap
bring your own cup
* Ice cream and popsicles (vegan & dairy) to enjoy in the fields or at our brand new picnic tables!
----
Come and join us to welcome the spring, and fill up on those Farm Fresh veggies you've been missing over the winter!


What Might You Find In The Farm Store This Week?
Spinach
Cherry tomatoes
Bok choy
Tokyo Bekana
Microgreens
Asparagus
Potatoes, beets & spartan apples from 2021 harvest
Organic milk, yogurt, cheese from Upper Canada Creamery
Bekings Eggs
Granola from Christy's Wholefood Baking
Organic pantry staples
Popsicles & Ice Cream
-
Salad mix - maybe
Radishes - maybe
Arugula - maybe
----
2022 Farm Store Hours
Thursday: 11am - 7pm
Friday & Saturday: 9am - 5pm