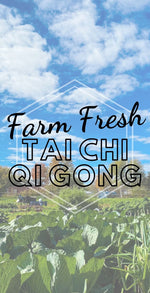 Let your body flow like water and discover inner peace in the tranquility of the Farm fields.
Join instructor Hiromi McPhail for a Tai Chi/Qi Gong fusion class that encourages you to slow down, relax, and connect body and mind to the natural world around you.

Hiromi's Yang style classes are designed to welcome all, whether you have practiced these types of movements before, or not. Classes begin with 15 minutes of gentle warm up, followed by 15 minutes of Qi Gong and 30 minutes of Tai Chi, before a final relaxation. Classes are fresh every week, so there are no worries if you miss a week or only come occassionally.


These classes are free for Farm Members, just use your membership discount code a check out (CSA members & Farm Market Membership) and your ticket will be discounted. Non-members are always welcome at the Farm, classes are $15/class. Head to the website to book your ticket in advance.

The first class will be on our opening day, May 19th, and will begin at 6pm. Arrive early enough to set up and settle in for an hour of connection and relaxation!

www.ottawafarmfresh.com/collections/yoga/products/farm-fresh-taichi-qigong