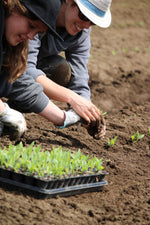 When we started Ottawa Farm Fresh in May of 2019 we envisioned more than just a farm.
We pictured a place of community, where people felt connected to the land and people that grow their food, and that the Farm would start to feel like an extension of their own home - a country getaway to retire to when the stresses of modern life become too much.
We have loved having you to the Farm for our events over the last two years - outdoor yoga, wild foraging, cooking workshops and more, but the one event that has been sorely lacking is the one that offers us the opportunity to work and break bread together. To come together in community around food, the fundamental building block of Ottawa Farm Fresh
On Saturday June 4th we invite you to come together with us to plant corn in the fields, and then share a potluck meal with the ever growing farm family.

We'll be making a big pot of baked beans, and a monster sized salad. You bring whatever delicious delights you'd like to share with the community. Don't feel comfortable sharing food? No worries, bring your own picnic and join in on the fun!
Planting & Potluck Picnic Schedule: June 4th

2:30-5pm: Corn planting

5-7:30: Bonfire & Potluck picnic
Don't be shy, the more the merrier! Click to register for either planting or the potluck, or both! link in bio⁠
⁠
We can't wait to work the land, and then break bread together! 🍞 ⁠
FYI - Bring your own dishes, we will not be supplying any.