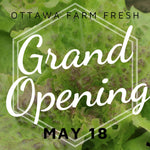 Spring is coming and with it the Ottawa Farm Fresh Grand Opening!

In only 7 weeks we'll be back to filling your lives with locally grown, organic veggies.

The brand new barn Farm Store will open its doors for the season on Thursday, May 18 at 11am, and we can't wait to welcome you all back for another season of fun and Farm Fresh food!
Ottawa Farm Fresh Farm Store
Opening May 18
Our Farm Store is open to everyone. You do not need a
Farm Market Membership
or
CSA
to visit or make purchases, though we know that once you experience the Farm Fresh difference you'll understand why our members rush to renew their membership before the season even ends!
Thanks to the brand new converted barn Farm Store we're going to be able to bring you even more local food and goods this year, coming ever closer to our dream of being a one-stop local food hub for the whole community.
This season you'll find a bulk food section for the first time, filled with grains, beans, nuts, seeds, and dried fruits - something we've been planning for years! Thanks to the increased space we'll also be able to bring you even more fruit, vegetables, and products from other local farms, as well as the grass-fed, organic meat, eggs, dairy, and frozen prepared foods we began stocking last year.
The larger space is also what has allowed us to start the Full Diet CSA this season, which is a program that Jonathan has been wanting to offer for years.
The
Full Diet CSA Add-On
takes local eating to the next level, filling your life with the most delicious and vibrant food you've ever tasted! When you combine the Full Diet CSA with your veg CSA you'll be able to almost completely replace grocery store visits with a single weekly Ottawa Farm Fresh stop, decreasing your food miles, and investing your hard earned money back into the local economy.