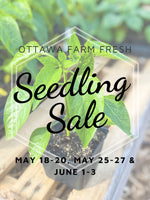 Have you started fantasizing about the veggie garden to come?

Plucking sun-ripened veggies and herbs from earth tended by your own fair hands? There are few things more satisfying.

We want to make the joy of growing simple and accessible for everyone, and the first step towards this is starting your garden with the very best seedlings possible.

Enter the Ottawa Farm Fresh Seedling Sale!
2023 Seedling Sale
May 18-20, May 25-27, and June 1-3

With more than a decade of experience growing strong, vigorous, healthy seedlings, we know what it takes.

We grow your seedlings right alongside the ones we use at the Farm. They get the same level of love, dedication and knowledge so they are guaranteed to get your garden off to a roaring start!

This year's Farm Fresh Seedling Sale is going to work a little differently from past years.

This year you will get to come and stroll around the Farm, selecting the plants and varieties you would like before heading home to nurture them for the season to come.

The Seedling Sale will happen over three weeks - May 18-20, May 25-27, and June 1-3.

Simply come when you can over those three weeks and we'll have everything you need for an amazing garden. We will also be staggering the planting dates so we will have a constant supply of fresh seedlings that are ready to be planted out for each of the three weeks.

Take a look at the seedling selection and mark the dates on your calendar!
We'll also have a selection of our favourite organic gardening supplies!
Ottawa Farm Fresh Garden Supplies
* 120 seed varieties from Gaia Organic Seeds - click here to see the seed variety list
* Potting Mix
* Compost
* Organic Fertiliser
* Row Cover
* Insect Netting
* Bio-char
* Geotextile Ground Cover