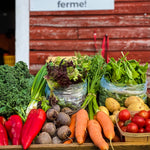 Last week marked quite a few firsts for us at the farm - Our first CSA pick-up and delivery of our Winter Bounty Baskets. Our first Christmas "catalog" of gift giving from the farm. The end of our first summer harvest here in Ottawa.
And now we begin planning for our first FULL growing season and next year's weekly Summer Bounty CSA Baskets. What seeds should we order? How many? What seedlings will inspire Ottawa's gardeners? What veggies and blooms will win over the hearts and health of even more neighbours and locals? What organic beauties can we layout for you at the Farm Store?
We have a good idea of what you're going to love, but another way we get a feel for what to grow and how much to plant, is through our Summer Bounty CSA basket purchases. So, if you're planning on grabbing a subscription for your family OR you know it's the perfect gift for a loved one, we'd love to hear from you and set you up with a CSA share.
PS: When you order, we'd also love to hear your organic veggie requests!
Here is everything you need to know...
2020 Gift Giving Spotlight:
#1
The Refilling Veggie Basket
(AKA the Summer Abundance CSA Basket Subscription)
What if you could give your loved one (and their family) food security: a basket that *magically refills with organic veggies fresh from the field every week all summer long? You can.
*okay, well this type of magic comes from your thoughtfulness, investment & our love and care to grow, wash, package & deliver!
Please note: We will provide you with a beautiful gift card announcing your generous and meaningful gift for your loved one, perfect for putting under (or on!) the tree. 
Details:
Our Summer Abundance CSA Basket Subscription 2.0 gift is simple, flexible, and delicous.
Simple - It runs for 22 weeks from June 2 to Oct 31, 2021. Weekly basket pick up is at the on-site Farm Store. As a farm member your loved one will recieve 10% more veggies than if they were buying straight from the Farm Store.
Flexible - What if your loved one takes holidays? No problem, they simply will tell us how many weeks they'd like off and we'll give them (or you) a gift card for the remainder of their summer share to spend as they (or you) please.
When your loved one picks up their basket at the Farm Store they have even more flexibility: they can trade out any veggie in their basket for a veggie they prefer. So, if they don't like a certain vegetable, no problem, they can swap it for a different one.
Gifts (for 22 weeks):
mini (1-2 people) $440
small (2-4 people) $660
medium-family (3-5 people) $990
large-family (5+ people) $1320
**to purchase or for more options and details click HERE