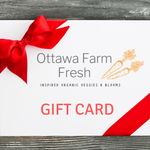 🎄Making the Holidays Meaningful
One thing (of the many) I admire about Jolianne is that she curates the things she owns. Something must be functional and beautiful to earn a place in her home or she'd rather do without. That doesn't mean everything is perfect, far from it, it means that she is intentional about what she keeps, what she recycles into another use (ie: jeans cut up to be potholders), what she politely refuses and what she buys.
In-line with this, we thought long and hard about what YOU would find meaningful, practical and beautiful to give this holiday season from the farm. We also knew that our intention for the 2020 holiday season is to simplify and create wholeness with what we offer. So, without further ado, here is a preview of...
2020's Christmas Giving from the Farm🎄
#1
The Refilling Veggie Basket
(AKA the Summer Abundance CSA Basket Subscription)
What if you could give your loved one (and their family) food security: a basket that *magically refills with organic veggies fresh from the field every week all summer long? You can.
*okay, well this type of magic comes from your thoughtfulness, investment & our love and care to grow, wash, package & deliver!
Details:
Our Summer Abundance CSA Basket Subscription 2.0 gift is simple, flexible, and delicous.
Simple - It runs for 22 weeks from June 2 to Oct 31, 2021. Weekly basket pick up is at the on-site Farm Store. As a farm member your loved one will recieve 10% more veggies than if they would buying straight from the Farm Store.
Flexible - What if your loved one takes holidays? No problem, they simply will tell us how many weeks they'd like off and we'll give them (or you) a gift card for the remainder of their summer share to spend as they (or you) please.
When your loved one picks up their basket at the Farm Store they have even more flexibility: they can trade out any veggie in their basket for a veggie they prefer. So, if they don't like a certain vegetable, no problem, they can swap it for a different one.
Gifts (for 22 weeks):
mini (1-2 people) $440
small (2-4 people) $660
medium-family (3-5 people) $990
large-family (5+ people) $1320
**to purchase or for more options and details click HERE
#2
An Organic Garden
Have someone to buy for that is an avid gardener? Or perhaps a want-to-be or beginner gardener? Maybe you want to gift your family a garden for 2021?
Excellent! Let's partner up to offer them (or you!) a truly meaningful gift - an investment in their knowledge, well-being and a cheerleader for their enthusiasm for playing in the dirt! (Who said these presents need be serious ;)
Details:
Organic Garden Package: Organic Plants, Seeds, Fertilizer, and a Customized Garden Plan
Let's get your loved ones growing an abundant crop of fresh organic vegetables, in their very own yard. With over a decade of commercial organic vegetable farming and farm consulting experience, we're here to help.
Grow it like a Pro.
We've got them covered for the three key garden success factors:
Vigorous Plants and Seeds: We know which varieties work and which don't. We also know how to grow an organic seedling that will thrive in their garden and we make sure they aren't covered in pesticides.
Optimal Soil Fertility: Every soil is unique, each crop has different needs and the complex interaction of soil pH, Macro-Nutirients, and Micro-Nutrient has a huge impact on crop yield. Sound complicated? Not for us, we love this stuff and we will...
~ provide them with an easy to use soil sampling kit
~ send their soil sample to our favourite soil analysis lab
~ interpret the results
~ provide them with the optimal blend of organic fertilizers for their particular garden as well as step by step planting instructions
A Customized Garden Plan: Based on the vegetable preferences your loved one indicates in their in-take form, we'll provide them with a detailed garden plan showing what to plant, when and with what spacing. 
Gifts:
Small Garden (up to 100 sq. ft.): $250   
Medium Garden (100 to 200 sq. ft.) $425 
Large Garden (200 to 300 sq. ft.) $575 
XL Garden (over 300 sq. ft.) Contact us for a quote. 
**to purchase or for more options and details click HERE
#3
Yoga in the Field: The Full Bloom Series
You read that right! Starting next spring we will be offering yoga in the field.
Sounds heavenly, doesn't it!
The truth is we all get caught up in our city and suburban lives and forget to "get out and connect with nature" once in a while. We also all know someone we love that could really use some fresh air and yoga.
Details:
Connect to the sky above, get grounded to the land, and unleash the spirit within. Escape from the craziness of the city and join us at the farm for a rejuvenating yoga practice right in the field. With multiple time slots on week nights and Saturdays, there's something for all levels.   
1 class 27$
5 classes 110$
10 classes 190$
**to purchase or for more options and details click HERE
#4
A Gift Card
When in doubt, a gift card is perfect - simple, thoughtful, flexible and always fun to use!
Details:
Gift cards are available in $50, $100, $200 and $500 denomination and can be redeemed online or at the Farm Store towards:
~ fresh organic vegetables
~ seeds, seedlings, plants
~ garden packages
~ yoga classes
...really anything we offer at the Farm Store or online :)
The truth is we all need a little piece of farm life whether that is fresh organic vegetables, an excuse to drive to the Farm Store and get some fresh air or an hour under the big sky on our yoga mat. This gift encourages all three ;)
**to purchase or for more options and details click HERE