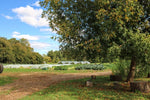 September 15 & 22, 5-6pm
Stretch and relax your way into the evening with Nathie for the next two weeks!
On September 15 and 22 our regular Tai Chi class will be replaced with an evening yoga flow led by Aloha Nathie Yoga. As the sun starts to sink and bathe the Farm in warm autumn light, you can start to detach from the stresses of the day, calm your senses, and let your body and mind settle into the evening.
Join us for these special evening yoga classes for the next two weeks, rain or shine thanks to our new event tent!
$15/person, Free for Farm Members