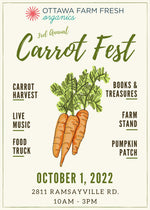 One of the last, and our very favourite event of the Farm Fresh season is Carrot Fest! A chance for us all to work together to bring in the last big harvest of the season 🥕⁠
We have about 6000lbs of carrots to be harvested, and you know the old adage - many hands make light work. Let's bring in the harvest together!

There is no better place to be on October 1st! There will be carrot picking, live music, food, u-pick pumpkins, a mobile book store, and all the organic goodness you know and love from Ottawa Farm Fresh!


Join us on October 1st for Carrot Fest, a chance to connect to your food, farm, and community 🥕⁠


Carrot Fest 2022 Schedule⁠
⁠🥕 A whole lot of community carrot picking - 10am-3pm⁠

⁠🎶 Live music from Nikki Satira (@chicorynikki 10:⁠30-11:30), Moonfruits (@moonfruitsmusic 12-1pm), & Raúl Perez (@Jamzwithraul 1:30-2:30pm)
🥬 Plant-based eats from @gatherfoodtruck - 11-2pm⁠⁠
🧘 Yoga with @aloha_nathie_yoga
20 minutes kids class at 10:30am - free
One hour adult class at 11am - free

⁠📚️ The grand opening of a brand new mobile book and treasure shop called Luna's Boutique (@lunasboutiqueottawa) - all day⁠

⁠🥕 Fully-stocked Farm Store serving up all your local, organic veggies needs! 9-5pm⁠

⁠🎃 You pick pumpkin patch 9-5pm⁠
⁠
Ottawa Farm Fresh is the place to be Saturday, October 1st!