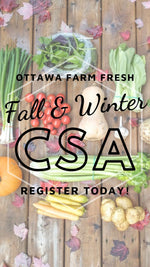 Can you feel it? The subtle shift beginning to happen? Cooler days, misty mornings, and earlier evenings are all signs that autumn is on its way.
Autumn is in the air, and after a busy summer on the Farm, we welcome it!
Long before the weather started to change we were already thinking about autumn, and all the way into winter.
CSA baskets need filling, and we don't leave that to chance! Crops have been planted, and believe it or not, storage has already started. Just last week we harvested thousands of juicy beetroot, most of which are destined for our Fall & Winter CSA baskets.
Take advantage of the amazing abundance of late summer and fall at the Farm. It's an amazing time of year for fresh, local food! We have all the abundance of the summer crops still growing in the fields (tomatoes, pepper, cucumbers, etc) PLUS the bounty of fall is coming on as well (potatoes, squash, daikon, garlic). Yeah!
As fall eases into winter stay warm and cosy all the way to New Years with our weekly bounty of hearty winter vegetables. Thanks to our cold room we're able to store a wide array of crops: carrots, beets, potatoes, cabbage, winter squash, and garlic to name a few. On top of that, our caterpillar tunnels and greenhouse provide a bounty of frost-tolerant veggies such as kale, chard, spinach, and arugula. Plus microgreens from our indoor grow room.
The Farm Store closes to the public at the end of the Summer CSA season on October 29th, so being part of our Fall & Winter CSA or Winter CSA is the only way to keep filling your life with the Farm Fresh veggies you've come to love over the summer.
Keep filling your kitchen and belly with those Farm Fresh veggies you love all the way to New Year! Our Fall & Winter CSA registration is now open and spaces are limited. Register today!