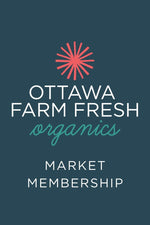 As the Farm expands we want to offer as many flexible solutions for stocking up on Farm Fresh goodness as possible. We know that the CSA model doesn't work for everyone, and with this in mind, we are delighted to launch our brand new Farm Market Membership!
With our new Market Membership you can feel all the Farm Fresh membership feels, without the commitment of coming a specific number of times through the season - it's the ultimate in Farm Fresh flexibility!
The Market Membership lets you buy what you want, when you want, all season long. Think of your Market Membership as an Ottawa Farm Fresh debit card, with benefits!
What are the benefits of the Market Membership?
Save 10% on Purchases: Whenever you make a purchase in the Farm Store using your Market Membership you'll receive 10% off! This includes everything we sell at the Farm Store - veggies, fruit, meat, dairy, eggs, seedlings…EVERYTHING!
Free Access to Ottawa Farm Fresh Events*: As a Farm member you will have complimentary access to paid events at the Farm, including workshops, and Farm Fresh yoga.*occasional exclusions will apply.
Member Only Events: Join us through the season for exclusive member only events, like seasonal picnics and our annual Farm Town Hall.
Total flexibility: Our CSA might be the most flexible one around, but our Market Membership takes flexibility to the next level! Don't know when you'll be coming to the Farm? Know that your grocery needs fluctuate through the month? Spend time travelling or at a cottage through the summer? The Market Membership is the best way for you to get all that Farm Fresh goodness with minimal commitment.