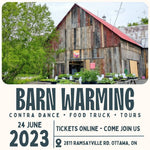 Have you visited the newly opened barn Farm Store? We opened it's doors to the public on May 18 and what an amazing reception it has received!
After three years of work we were delighted to finally open the doors on this beautiful heritage building that has served the Ottawa agricultural community for more than a century! When we arrived here she was but a shell of her former self - dilapidated, disused, and decaying. Despite the state we found her in, we saw the potential of this beautiful building, and in partnership with the NCC set about bringing her into the 21st century. Click here to take a look at the transformation from where we started to where we are now!

We were always passionate about this project, but when we first met the Ramsay family, and particularly 92-year-old Ed Ramsay, whose grandparents built this very barn, and received such warm and enthusiastic support for the project, we knew we were on the right track!

If anything calls for a party, this is it!
You are invited to a Barn Warming party on June 24!
The summer solstice seems the perfect day to honour this new season of the barn - moving from a dark time of neglect, into a bright new period that honours her lifetime of service to the community.
Barn Warming Party Schedule

12:45pm-1:15pm - Arrival

1:15pm - Welcome and farm history with Farmer Jo & Ed Ramsay (who was born & raised on this land)

1:30pm-3:30pm - Contra Dance with musicians Ian Clark & John Dahms, & caller Emily Addison (beginner & family friendly)

3:30pm-4:15pm - Field & barn tour with Farmer Jo

11am-2pm - Sheepdog Grill serving organic sausages & kebabs (including veggie option)

All day - The rye-mazing Rye Maze!

The Barn Warming party is first and foremost a celebration, but it is also a fundraiser to help continue the development of the barn into the vibrant community space we have always dreamed of. Your contribution at the Barn Warming will make a real difference to the Farm, and help us get ever closer to achieving the dream of building a local food hub for everyone to enjoy!

Tickets to the Barn Warming contra dance are free for 2023 Farm members, and start at $15 for anyone else. We have priced the tickets on a sliding scale should you wish to make a larger contribution. Every ticket purchased will go towards the barn development fund and contribute towards supporting local farming in Ottawa-Gatineau!

Join us for a day of food, music, dance, and fun! We look forward to seeing you there!