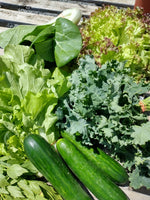 One of the best parts of joining a CSA or shopping at a local Farmers' Market is being exposed to new and exciting seasonal vegetables that you've maybe never tried before.

This is true in spring probably more than at any other time of the year. Unusual greens, alien-looking kohlrabi, different shapes, sizes, and colours of radishes - there are so many delicious vegetables in the Farm Store these days that there is every chance you've never tried some of them before. Let us introduce you to some of our favourites today!
Your Guide To Farm Fresh Spring Veg
Spring salad greens: Have you ever noticed how our greens change through the season? This is because different salad greens flourish at different temperatures, so we select varieties that will do well as the seasons change. Greens like arugula and spinach are very cold tolerant and grow quickly even at low temperatures, and the cold can actually enhance their flavour. We plant different lettuce varieties through the season too - you'll notice the colours and texture change throughout the season.

Bok Choi & Tokyo Bekana: If you haven't tried these asian greens before you are in for a treat! Bok choi is incredibly crunchy and juicy, making it a perfect snack on a hot afternoon. Nevermind watermelon, this is our go to refreshing spring snack. It can also be cooked and the white ribs maintain their crunch if not cooked for too long. Tokyo bekana is one that many people haven't come across before. It is a variety of asian cabbage, but the flavour is mild and you simply can't beat the colour! The big outer leaves make great wraps and it too can be eaten raw in a salad, or lightly cooked.

How to store Farm Fresh greens: Our bagged greens are triple-washed and ready to eat straight from the bag. To keep them fresh for as long as possible make sure to keep the bag tightly sealed in the fridge. All of our greens, from head lettuce, to bok choi, and tokyo bekana are also best stored in a sealed bag or container, but these require a wash before use.

Radishes: Too many people have been turned off of radishes after eating substandard spicy and woody specimens from a home garden. When irrigated properly and picked at the perfect time radishes are crunchy and juicy, with just a hint of spice. Sliced thinly they can be added to sandwiches, wraps, or salads for a fresh spring crunch. They are also great made into a quick pickle, or even roasted in the oven or on a bbq. Yes, you can cook radishes!

Kohlrabi: While many Canadians have never come across kohlrabi, it is a staple veg in Eastern Europe. One of our CSA members, Uljana, who originally hails from the Czech Republic, is a huge fan of the humble kohlrabi and she has some tips for using this unusual veg.

"I am from Czech Republic and kohlrabi there is a very popular vegetable, available much more than here, and one can buy it anywhere when in season just like onions and carrots..;We have always eaten it raw - just like carrots - just peel the kohlrabi (called kedlubna in czech) and cut it into quarters or smaller pieces, and just eat it raw like an apple or carrots. Some people used to grate it and add a little vinegar and salt and some oil etc - to make it into a salad, but I love it raw - I make a hummus dip and plate of raw veggies for the dip - and that's how we/I eat it. So delicious."

Hakurei Turnips / Sugar Drop Radishes: The hakurei turnip, sometimes called a salad turnip, is something you might not have come across before, but this is not your grandma's turnip. They are mild flavoured, super crunchy, and great either cooked or raw. The greens are also edible, so make sure you don't add those to the compost pile. We like to eat the roots whole like an apple, sliced thin in a salad or sandwich, made into a quick pickle, stir-fried or glazed on the stove top, or roasted in the oven or on the bbq. Add the greens to a stir-fry or saute them with some onions and garlic for a quick and tasty side dish.

Storing radishes, kohlrabi, and hakurei turnips: There are a few steps to storing these vegetables in ideal conditions, but it's worth it to keep things crunchy and to reduce food waste.


If there are greens attached to any of these veg, remove them before storing and store them separately. Radish, turnip, and kohlrabi greens are all edible and should be stored like any other greens. Use them within a few days.
Remove any elastics that are holding bunches together. Having things loose not only makes them easier to access, but removing the elastic also makes them last longer.
Store the main roots or bulbs in a sealed container or plastic bag in the fridge. Stored properly all of these will keep for weeks in the fridge.

Microgreens: Microgreens look like tiny plants, and that because that's exactly what they are! A number of plants can be eaten as tiny sprouts, adding a burst of flavour and vitality to soups, salads, sandwiches, and wraps. Our three most common microgreens are buckwheat (the pink ones), sunflower, and pea shoots. You might be more familiar with sprouts, and microgreens can be used in much the same way.

Storing Microgreens: Just like salad greens, microgreens are best stored in a sealed bag or container in the fridge. They need to be washed just before use to maintain freshness, and you can either remove or just crunch through the seed shells that sometimes remain.