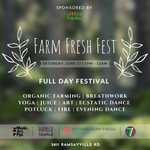 Do you love electronic music, ecstatic dance, and sonic yoga? Then this event is for you! We've partnered with Dance Temple, Music.Art.Ppl, and Triple 7 to present a full day of workshops, dance, art, food and community on June 17 from 1pm to 12am. Juice Dudez will be onsite serving up fresh juice and a community art piece will be onsite for everyone to contribute to.
There will be no better place to be on June 17!
Farm Fresh Fest is a wholesome event for the entire family, taking place on Saturday June 17th.

The festival programming starts with a session to educate attendees regarding best practices to maintain healthy soil and the right seeds to plant by season. That is then followed by a breathwork workshop and dynamic Yoga session paired with live music. From there the day progresses with Ecstatic Dance, a Potluck, Community Art Wall and finally more music and dance! Local craft vendors will be present, showcasing their creations!
This event brings together artists, farmers, local businesses and the community. The mission is to educate the community and empower them to come together, learn and take initiative while also highlighting the efforts, products and services of local businesses!


Farm Fresh Fest Schedule:
1:30 - Land Introduction/Organic Farming Education Workshop by Ottawa Farm Fresh
2:45 - Breathwork by Dan Andronescu
4:00 - Sonic Yoga
5:30 - Ecstatic Dance with Drez Slezak
7:15 - Supper (Potluck)
8:00 - Bonfire/Singing/Drumming/Instruments
8:00 - Second Sight (Live Set)
9:00 - Music.Art.Ppl B2B (DJ/Live Hybrid Set)
10:30 - Soulove (DJ Set)

Grab your tickets and join us for a full day of Farm Fresh fun!