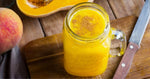 Winter squash in a smoothie?! It's true! This is one of Jolianne's favourite autumn smoothies - not too sweet and a great way to make your smoothie as local as can be.
Winter Squash Smoothie
1 ½ c Almond milk
1 ¼ c Roasted butternut squash* puree
3-4 Large Medjool dates, pitted
1 T chia seeds
1-2 t cinnamon, to taste
1 ½ t pure vanilla extract
½ t ground ginger
sprinkle of ground cloves
5-6 large ice cubes, or as needed
    -
To cook the squash: Preheat oven to 400°F & line a baking sheet with parchment paper. Slice the stem off the squash (optional) and slice the squash in half lengthwise. Scoop out the seeds with a spoon. Brush a bit of oil on the squash and sprinkle with a pinch of salt. Place squash on the baking sheet, cut side up, and roast for 35-50 minutes, until fork tender and golden brown on the bottom. Allow to cool.
For the smoothie: Add all smoothie ingredients into a high speed blender & blend on high until smooth, adjusting the spices as needed. Serve immediately & enjoy!
ohsheglows.com/2013/09/27/velvety-butternut-cinnamon-date-smoothie-for-two/