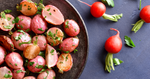 If you have never had cooked radishes then you are missing out! Roasting radishes mellows their flavoour and makes them sweet and delicious! Geat as a side dish or added to a salad.
Roasted Radishes with Lemon Tahini Dressing
1 pound radishes*, trimmed and halved
1 T ghee
1/2 t kosher salt
1/4 t each black pepper, garlic powder & onion powder
1/2 t Italian seasoning
1/4 c tahini
2 T lemon juice
1 clove garlic*, crushed
1/2 t salt
1/4 t black pepper
3-4 T water
    -
Preheat oven to 425℉.
In a bowl, combine the radishes, melted ghee, salt, pepper, garlic powder, onion powder, and Italian seasoning and toss until radishes are evenly coated.
Spread radishes out on a 9×13 rimmed baking sheet lined with parchment paper. Be sure not to overcrowd the pan.
Bake for 20-25 minutes, tossing once halfway through. Serve alongside lemon tahini sauce for dipping or drizzling (optional but delicious!)

Lemon Tahini Sauce: Combine tahini, lemon juice, garlic, salt and pepper in a small bowl.  Mix together, this will be fairly thick. 
Add in water, one tablespoon at a time, until the sauce becomes smooth, creamy and can be drizzled from a spoon (or until you have reached your preferred consistency). Drizzle over radishes and enjoy!
cleananddelicious.com/easy-roasted-radishes