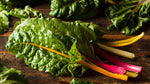 Swiss chard in a sweet pie?! If you like to try unusual recipes, this one's for you!
Tourte de Blettes is a traditional Niçoise recipe that is often served around Christmas. There are many variations on this recipe, sometimes with cheese, sometimes not. Sometimes with apples, sometimes not. Give it a try and see what you think!
Tourte de Blettes
For the dough:
2 1/3 cups flour
1/3 cup sugar
1 1/2 teaspoon baking powder
1/2 teaspoon salt
1/4 cup olive oil
2 large eggs
Optional: 2 to 3 tablespoons whole milk
Alternatively, use your favourite butter pastry recipe.

For the filling:
1 1/2 pounds (.75kg) of Swiss chard leaves
1/3 C raisins
3 T cider brandy
1/4 C pine nuts, toasted
1/2 t ground cinnamon
1 oz Parmesan cheese, freshly grated
1/2 C granulated or free-flowing natural cane sugar
Finely grated zest of 1 lemon
2 large eggs
2 medium baking apples
salt
---
Make the dough by mixing together the flour, 1/3 C sugar, baking powder & salt in a bowl. Add olive oil & eggs, mixing until dough is smooth. If the dough is too dry, add 1-2 T whole milk.

Divide dough into two, one slightly larger than the other. Wrap each & shape the two dough portions into disks. Chill for at least one hour. (Dough can be made up to two days in advance.)

Remove chard leaves from stalks & wash very well.

Put chard leaves in a saucepan with a bit of water & pinch of salt. Cover & cook leaves until they're completely wilted, ~15 min. Drain & run under cold water, turning as you rinse. Once cool, squeeze the leaves very, very firmly to extract as much water from them as possible. Chop coarsely.

Put raisins in a small saucepan and pour cider brandy over them to cover. Simmer for a minute or two, until the liquor is absorbed. Let cool to room temperature.

Grate apple, avoiding core, squeeze out as much excess liquid as possible.
In a large bowl mix together chard, apple, pine nuts, raisins, beaten eggs, cinnamon, lemon zest, cheese & sugar.

Preheat the oven to 350ºF.

Lightly butter a 9-inch (23 cm) tart pan with a removable bottom. (No need to butter if it's a non-stick pan.)

Dust both sides of the larger pieces of dough & roll between two large sheets of parchment paper. About halfway through rolling, peel away the parchment & re-dust both sides with flour, then continue to roll the dough until it's the size that will fit into the bottom of the tart pan & go up the sides. Lay in tart pan.

Spread filling over the dough & top with second layer of dough. Use fingers to seal the dough at the edges to enclose the filling.

Bake for 30-40 min, until the dough is golden brown on top. Remove from the oven and dust the top with powdered sugar. Let cool before slicing.