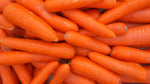 This recipe comes to us from Michelle, one of our lovely farm store employees. This is one of her family's favourite ways to use our crunchy and sweet, farm-fresh carrots!
Carrot Ribbon Salad
Dressing:
2 T honey
2 T red wine vinegar
1 t orange blossom water
Olive oil to balance
1/2 t chili flakes
1/2 t cardamom
Salt and pepper

6 Carrots*
Parsley
Raw almonds
Crumbled feta

Combine all dressing ingredients by gently whisking. Set aside.
Ribbon carrots with a potato peeler
Chop parsley and crumble feta
Combine all salad ingredients and dressing and enjoy!