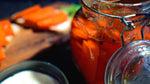 This is a recipe from a new CSA member who recommends it as a great recipe for the bounty of carrots that are probably in your fridge right now! She recommends it with wraps, with salad or with anything for that matter.  You can reduce the sugar to taste.
Ginger Pickled Carrots

1 lb carrots, peeled
1 C water
1 C cider vinegar
1/4 C sugar
1 garlic clove, lightly crushed
1-2 slices fresh ginger
1 1/2 T coarse salt
---
Peel and cut the carrots into sticks about the size of your baby finger. Bring a saucepan of water to a boil and drop the carrots in; cook for about a minute, then drain them and run under cool water to stop them from cooking. Drain well.

In the same pot, bring the remaining ingredients to a boil, then reduce the heat and simmer for a minute. The sugar and salt should be completely dissolved.


Pack the carrot sticks into a jar or jars, and pour the brine overtop, tucking in the slices of ginger too. Let them cool, then store in the fridge for up to a month. They should be ready to eat in a day or two, but will be much better after a week.