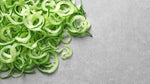 Sometimes the best way to enjoy fresh summer vegetables is simply in a salad. Using a spiralizer gives the cucumber an intersting texture, but the salad is just as delicious with the cucumber sliced into ribbons with a vegetable peeler, or just chopped into chunks.
Spiralized Cucumber Salad
2-3 cucumbers*, spiralized
½ pint cherry tomatoes*, quartered
3 green onions*, thinly sliced
½ bunch cilantro*, finely chopped


Dressing:
½ cup plain yogurt*
¼ cup extra-virgin olive oil
¼ cup mustard
3 to 4 tablespoons maple syrup*
2 tablespoons lemon juice*
2 tablespoons apple cider vinegar or more lemon juice
1 clove garlic*, pressed or minced
Salt & pepper, to taste
    -

Prepare vegetables and add to large serving bowl.
For dressing: Add all ingredients to a bowl or large jar, mix or shake until well mixed.
Pour over salad, enjoy!