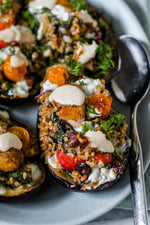 This Greek chicken and rice stuffed eggplant with cherry tomatoes, spinach, feta, and lemon tahini sauce is a flavourful and satisfying summer meal. To make this recipe vegetarian, replace the chicken with tofu, chickpeas, or lentils. To make it vegan, omit the feta and replace the honey in the sauce with maple syrup.

Recipe by Allison from Up Beet Kitchen
Serves 4.
Greek Chicken and Rice Stuffed Eggplant
Ingredients
Rice: 
1 cup short grain brown rice, rinsed and drained
1 ¾ cups water
¼ teaspoon sea salt
Chicken: 
1 tablespoon extra virgin olive oil 
2 tablespoons lemon juice
2 garlic cloves, minced
¼ teaspoon sea salt
Freshly ground black pepper, to taste
1 teaspoon dried oregano
1 teaspoon smoked paprika
¼ teaspoon hot red pepper flakes
1 teaspoon Dijon mustard
2 tablespoons balsamic vinegar
1 pound organic boneless skinless chicken breasts, cut into 1-inch pieces
Eggplant: 
2 eggplants
Extra virgin olive oil for brushing
Sea salt
Vegetables: 
2 tablespoons extra virgin olive oil, divided
1 medium onion, diced
3 garlic cloves, minced
Sea salt
½ cup pitted kalamata olives, sliced 
2 cups cherry tomatoes, halved
4 packed cups chopped spinach or kale
4 oz feta cheese, crumbled
½ cup chopped fresh herbs (dill and basil are great)
Lemon Tahini Sauce (makes extra): 
½ cup water
½ cup tahini
¼ cup lemon juice
½ teaspoon sea salt
Freshly ground black pepper, to taste
1 tablespoon raw honey
1 tablespoon Dijon mustard
1 garlic clove
Instructions
Cook the rice:

Combine the rice, water, and salt in a medium saucepan. Bring to a boil, then turn down heat to low and cover. Cook for 45 minutes, or until all of the water has been absorbed. Fluff with a fork and set aside. 

Marinate the chicken:

Whisk together the oil, lemon juice, garlic, salt, pepper, oregano, smoked paprika, red pepper flakes, Dijon mustard, and balsamic in a bowl. Add the chicken and toss to coat. Set aside for at least 15 minutes or refrigerate for several hours. 

Roast the eggplant:

Meanwhile, preheat the oven to 400 F. Lightly grease a rimmed baking sheet with olive oil. Slice the eggplants in half lengthwise and score the flesh in a crosshatch pattern. Lightly sprinkle with salt and brush both the flesh and skin with olive oil. Place flesh-side down on the bake sheet and bake for 15-20 minutes, or until tender but not falling apart. (Larger eggplants might take a bit longer.) Flip the eggplants over and lightly push the flesh to the sides to make room for the chicken and rice filling. 

Cook the chicken:

While the eggplant is roasting, cook the chicken. Warm 1 tablespoon of extra virgin olive oil in a skillet (preferably cast iron) over medium heat. Add the chicken and cook, stirring occasionally, until no longer pink inside, about 7 minutes. Remove from the skillet. 

Cook the vegetables:

In the same skillet, warm up the remaining tablespoon of oil over medium heat. Add the onion, garlic, and a pinch of sea salt. Cook until lightly browned, stirring occasionally. Add the olives, cherry tomatoes, spinach, and herbs, cooking just until the spinach wilts slightly. Stir in the cooked rice and chicken. 

Stuff the eggplant

with the chicken and rice filling; there will be extra filling (perfect for lunch tomorrow!). Top with the feta cheese. Bake for 15 minutes. 

Make the lemon tahini sauce:

Combine the water, tahini, lemon juice, salt pepper, honey, and Dijon mustard in a blender. Blend until smooth. (Store leftover sauce in an airtight container in the fridge.)

Serve!

Drizzle the stuffed eggplant with the lemon tahini sauce and enjoy.