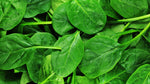 Spinach Gratin
1 T olive oil
1 onion, diced
1 t salt
½ t each, pepper, thyme
2 T flour
1 ½ lb spinach, roughly chopped
1 C cream
1 ½ C swiss, shredded
¾ C bread crumbs
3 T butter, melted 
---
Heat oil in a large skillet over medium heat and cook onion until soft, about 5 min. Season with salt, pepper, and thyme. Sprinkle flour over onion mixture and cook until a thick paste forms, about 1 min.

Cook spinach until it begins to wilt, about 4 minutes. Turn heat off and add half-and-half, 1 cup Swiss cheese, and the onion mixture. Stir to combine and transfer to a 9-inch gratin dish.
Combine breadcrumbs, 1/2 cup cheese in a bowl & melted butter, stir to combine. Spread breadcrumb mixture over the spinach & bake @ 400F uncovered for 20 minutes.
*www.allrecipes.com/recipe/268909/fresh-spinach-gratin