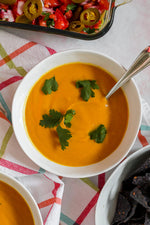 This smoky carrot red lentil soup is bursting with flavour, thanks to the sweet Ottawa Farm Fresh carrots combined with smoked paprika, cumin, coriander, cayenne, lime, and cilantro. Red lentils are blended in for added substance and a boost of protein, iron, and folate! 
Serves 6. 
Smoky Carrot Red Lentil Soup
Ingredients:
2 tablespoons extra virgin olive oil
2 cups chopped yellow onion
4 medium garlic cloves, minced
3 celery ribs, chopped 
1 teaspoon sea salt
Freshly ground black pepper, to taste
1 teaspoon smoked paprika
1 teaspoon cumin
½ teaspoon coriander
¼ teaspoon cayenne
4 cups chopped carrots
1 cup split red lentils
6 cups vegetable broth
1 tablespoon maple syrup
1-2 tablespoons freshly squeezed lime juice, to taste
Cilantro, for garnish
Instructions:
Warm the oil in a soup pot over medium heat. Add the onion, garlic, celery, and salt. Cook, stirring occasionally, until softened and fragrant, eight minutes. Add the pepper, smoked paprika, cumin, coriander, and cayenne, followed by the carrots. Cook for about five more minutes before adding the lentils and vegetable broth. Bring to a boil, then turn down heat to medium and simmer, stirring occasionally, until the carrots and lentils are cooked through, 15-20 minutes. Remove from the heat and let cool slightly before blending.
Blend the soup in a blender until ultra smooth and creamy. Return to the pot and add the maple syrup. (This helps to balance the flavours.) Warm back up to your desired temperature. Right before serving, stir in the lime juice. Garnish bowls of soup with cilantro.
This soup pairs beautifully with this
Fresh Seven-Layer Dip
by Cookie and Kate!