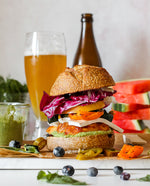 These summery sandwiches are piled high with roasted zucchini, corn, and peppers, chicken baked in flavourful barbecue sauce, brie, tomatoes, and pepita basil goddess sauce. 
Serves 4-6

Barbecue Chicken Sandwiches with Roasted Summer Vegetables and Goddess Sauce
Chicken:

500 grams organic boneless skinless chicken breasts, cut into 1-inch pieces
1/3 cup barbecue sauce
Juice of 1 lime 
1 tablespoon extra virgin olive oil 
1 tablespoon balsamic vinegar
½ tablespoon Worcestershire sauce (optional)
2 garlic cloves, minced
1 teaspoon cumin
1 teaspoon smoked paprika
Pinch of sea salt
Roasted Vegetables:

1 medium zucchini, chopped
2 bell peppers, chopped 
1 cup corn kernels
1 tablespoon extra virgin olive oil 
1 teaspoon dried basil 
¼ teaspoon hot red pepper flakes 
Pinch each sea salt and freshly ground pepper
Goddess Sauce:
¼ cup freshly squeezed lime juice
2/3 cup toasted pepitas 
1 cup basil 
2 garlic cloves
½ teaspoon sea salt
Freshly ground pepper to taste
1/3 cup water
For Serving:

Buns (sourdough buns are great here)
Radicchio, arugula, or lettuce
Sliced brie or cheddar cheese
Sliced tomato
Pickled jalapeños
Instructions:


Prepare the chicken:
In a bowl, combine the chicken, barbecue sauce, lime juice, olive oil, balsamic, Worcestershire sauce, garlic, cumin, smoked paprika, and salt. Stir to combine. Set aside for at least 15 minutes, or refrigerate for a few hours or overnight. 
Cook the chicken:

Preheat the oven to 425 F. Place the marinated chicken on a large rimmed baking sheet and bake for 15-20 minutes, or until cooked through and no longer pink inside. Broil for 1 minute at the end. 

Roast the vegetables:

Arrange the vegetables on a large rimmed baking sheet. Drizzle with the oil and sprinkle with the basil, red pepper flakes, salt, and pepper. Toss to coat. Roast for 15-20 minutes at 425 F. 

Make the goddess sauce:

Combine the lime juice, pepitas, basil, garlic salt, pepper, and water in a blender. Blend until smooth. 

Make the sandwiches:

Slice the buns in half and toast if desired. Spread some goddess sauce on the bottom half, then top with the chicken, roasted vegetables, cheese, tomato, and lettuce. Enjoy! 

Note:
If you have a barbecue,  you can marinate whole or half chicken breasts and cook them on the barbecue.