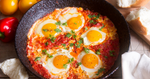 This Shakshuka recipe is easy to prepare, can be enjoyed any time of the day, and is filled with Farm Fresh veggies - it ticks all of the boxes for us! Feel free to add extra veggies to the sauce (kale makes everything better!) or switch up the spices using whatever you prefer or have on hand.
Shakshuka
1 T olive oil
1/2 onion*, peeled and diced
1 clove garlic*, minced
1 pepper*, seeded and chopped
4 C ripe diced tomatoes*
2 T tomato paste
1 t each chili powder, cumin, & paprika
Pinch of cayenne pepper, or more to taste
Salt & pepper, to taste
6 eggs*
1/2 T fresh chopped parsley*
    -
Heat a deep skillet or sauté pan on medium. Warm olive oil in pan, then add chopped onion & sauté until onion softens. Add garlic, continue to sauté until mixture is fragrant. Add diced pepper, sauté for 5-7 min, until softened.
Add tomatoes, tomato paste, & spices, stir, & allow mixture to simmer over medium heat until it starts to reduce - 5 to 7 min
Taste mixture and spice it according to preferences. Add salt and pepper to taste.
Make 6 wells in tomato mixture & crack an egg into each. The eggs will cook "over easy" style on top of the tomato sauce.
Cover the pan & allow mixture to simmer for 10-15 min, or until the eggs are cooked to your preference & the sauce has slightly reduced. Garnish with the chopped parsley & serve.
toriavey.com/toris-kitchen/shakshuka