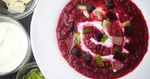 Borscht isn't the only beet soup on the block! Adding coconut milk to the soup adds a slight sweetness and lovely creaminess to the earthy beet flavour. Try this Coconut Beet soup recipe if you aren't sure you love beets - it will make you a beet-liever!
Farm Fresh tip - oven roast the beets first to make the soup even sweeter!
Coconut Beet Soup
1 T olive oil
1 large yellow onion*, diced
3 cloves garlic*, finely chopped
1 T finely chopped ginger*
3 large red beets*, peeled and cut into 1/4-inch pieces
5 c vegetable stock, divided
1 can (14.5 ounces) coconut milk
Salt & pepper to taste
    -
In a large pot, heat oil over medium heat. Sauté onion, 5 minutes.
Add garlic & ginger; cook, stirring often, 5 min.
Add beets & 4 cups stock; bring to a boil, then reduce heat and simmer until beets are fork-tender, 20 min.
With an immersion or regular blender, puree soup, adding remaining 1 cup stock as needed to reach desired consistency. Stir in coconut milk, salt & pepper. 
www.epicurious.com/recipes/food/views/beet-ginger-and-coconut-milk-soup-51188420