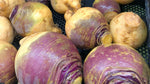 Curious about this funky looking root? Try it raw in this salad, mash it with some kale, add it to stews and soups, or roast it (that's my favourite) and dip it in a tahini or miso-maple dressing.
Raw Rutabaga Salad with Apples
1 rutabaga, trimmed and peeled
2 small apples
1 C finely chopped kale
½ C chopped walnuts
5 pitted dates, sliced
1/4 C olive oil
2 T apple cider vinegar
1 T honey
2 t dijon mustard
    -

Slice rutabaga and apples into matchsticks,  or use a julienne peeler or grater. Combine with kale, walnuts and dates.


Combine oil, vinegar, mustard, and honey and whisk until smooth, pour over salad and toss to coat. Enjoy!
https://itsavegworldafterall.com/raw-rutabaga-salad-with-apples/#recipe