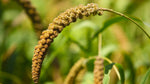 This is another recipe recommended to us by a CSA member. They took the original recipe from "May all be fed" and recommended adding cheese, chickpeas, and more tahini sauce, as we have shown below. Enjoy, and feel free to adjust the veggies you use based on what you have in your fridge!
Creamy Vegetable-Millet Casserole
3 ½ C water
1 C millet
8 carrots, sliced diagonally
2 broccoli stalks, cut into florets
1 bunch kale, chopped
1 small celery head, chopped
1 onion, chopped
1 C tahini
1 C hot water
4 ½  T brown rice miso
6 T toasted sesame seeds 
Cheese, shredded
1 C cooked chickpeas
---
Bring 3 C water to a boil in a medium saucepan, add millet, cover, and return to a boil. Once boiling, reduce heat and simmer until the millet has soaked up the water, about 20-30 minutes. 
In a large saucepan, bring ½ C water, carrots, celery, broccoli, and onion to a boil, reduce heat and simmer until vegetables are tender but still crisp. Add kale in the last few minutes to cook through. Drain.

Mix together tahini, hot water, and miso, add to vegetables.
 
Place millet in a 1 ½ quart baking dish. Sprinkle with shredded cheese, if desired. Pour chickpeas and vegetable-tahini mixture over top. Sprinkle with sesame seeds. Bake at 350 uncovered until heated through, 15-20 minutes.

"May all be fed" by John Robbins