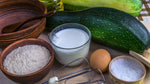 Take a pancake, but make it Farm Fresh! These zucchini bread pancakes are not only delicious, but filled with delicious zucchini - so much to love. The recipe works just as well made with frozen grated zucchini, a great Farm Fresh treat in the middle of winter.
Whole Wheat Zucchini Bread Pancakes
Makes ~8
1 c whole wheat flour
2 t baking powder
1 ¼ t cinnamon
¼ t nutmeg
¼ t salt
1 heaping cup shredded zucchini, squeezed of excess moisture with a paper towel
1 egg
2 T pure maple syrup or honey
1 T melted and cooled coconut oil or melted butter
1 t vanilla extract
½ c unsweetened vanilla almond milk (or milk of choice)
Optional: ¼ c chopped pecans
---
In a large bowl, whisk together flour, baking powder, cinnamon, nutmeg & salt.
In a separate large bowl, combine shredded zucchini, egg, maple syrup, coconut oil, vanilla & almond milk until smooth & well combined. Fold in pecans if using.
Add dry ingredients to wet & mix until just combined. If batter looks too thick add a splash more milk. If it's too wet, add another tablespoon of flour.
Lightly coat a large nonstick skillet or griddle with coconut oil or butter & place over medium heat. Drop batter by 1/3 c onto skillet and spread out a bit with a spoon if necessary. Cook until bubbles appear on top, about 2 minutes. Flip cakes & cook until golden brown on underside, ~ 2 minutes. Repeat until all batter is used.
Serve smothered in maple syrup!
www.ambitiouskitchen.com/fluffy-whole-wheat-zucchini-bread-pancakes