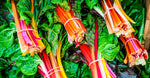 What's more comforting than mac & cheese? Mac & cheese packed with delicious swiss chard! Swiss chard can be used in much the same way as spinach & is a great source of essential vitamins, like vitamins K & A. If you've been wondering what to do with the bunch of swiss chard that is in your CSA basket, this recipe is a great option!
Mac & Cheese with Swiss Chard Chard & Mushrooms
6 tbsp butter divided
1 lb swiss chard chopped (one bunch)
1 c mushrooms chopped
2 1/2 c whole milk
1/4 c flour
1 tsp salt to taste
1 tsp ground mustard
2 1/2 c sharp white cheddar
3/4 c grated parmesan cheese
1 pound whole grain macaroni noodles
---
Cook noodles according to package. Drain, rinse &set aside.
Chop mushrooms. Heat 2 tbsp butter in large stockpot. Add mushrooms & pinch of salt, cook until tender.
Add in chopped greens & cook a couple minutes until wilted.
Once the greens are wilted, remove mushrooms & greens. Set aside.
In same pot add in 4 tbsp butter, melt. Add in ¼ c flour. Whisk into the butter & cook for a minute while stirring.
Once combined, add in 2½ c whole milk, 1 tsp salt & 1 tsp ground mustard. Whisk all ingredients together & cook until thickened & bubbly.
Once bubbly, turn off the burner and start adding cheese! Slowly whisk in the cheese until melted.
Add greens, mushrooms & cooked pasta to the pot and stir until combined.
Pour into 13×9 baking dish & bake at 375ºF for 20-25 minutes until bubbly.
livesimply.me/homemade-macaroni-and-cheese-with-swiss-chard-mushrooms