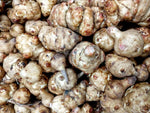 Welcome to the delightful world of Jerusalem artichokes – a little known joy of the vegetable kingdom. These tasty roots are a new addition to the Winter CSA so let us introduce you!

🌻 Despite the name, Jerusalem artichokes (otherwise know as sunchokes) are no distant cousin to the artichoke. They're more like the cool, crunchy cousin of the sunflower family. While they do sport a flower similar to a sunflower, the real magic lies beneath the soil – in the knobby, ginger-like tubers.

🌻 Taste Sensation: Raw, they're crisp and nutty, adding a delightful crunch to salads. Roast them for a caramelized sweetness, or toss them into soups and stews.

Roasted Jerusalem Artichokes

1 pound Jerusalem artichokes (1 quart)
¾ c olive oil
2 tbsp dried thyme
1 tbsp minced garlic
sea salt to taste
---
Preheat the oven to 350 degrees F (175 degrees C).

Scrub tubers & remove eyes. Cut into 1" pieces.

Mix oil, thyme, garlic & salt in a large bowl; add Jerusalem artichokes, toss to coat. Arrange pieces in one evenly-spaced layer on a baking sheet. Roast until tender, 35-45 min.
www.allrecipes.com/recipe/231247/roasted-jerusalem-artichokes-or-sunchokes