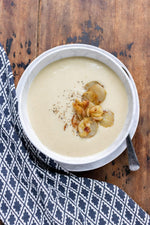 If Jerusalem artichokes (aka. sunchokes) are a new veggie to you, this simple soup is a good first recipe to try out. With just a few simple ingredients you have a warming meal that puts the nutty flavour of the Jerusalem artichokes right at the centre.
Creamy Jerusalem Artichoke Soup


2 tbsp butter or oil
400g jerusalem artichoke, peeled & sliced
1 onion, chopped
2 garlic cloves, minced
4 cups vegetable stock
1 cup milk or vegan milk
Sprig of rosemary


Chop the onion,  peel & slice the sunchokes. Douse chokes in acidulated water to keep them from turning brown.
Heat butter in large pan over medium heat. Add onions, jerusalem artichokes, cook, stirring often, until it all begins to brown & caramelise - about 15 mins.
Stir in garlic & cook for a further minute, then add the vegetable stock & milk. Bring to the boil, then reduce the heat & simmer for 10 mins.
Add rosemary & simmer for a further 10 mins. Skim off any froth that forms on the surface.
Remove rosemary & puree soup in a blender (don't overfill, you may need to do it in batches) or with a hand held stick blender.
Divide into bowls, top with fresh ground black pepper & enjoy!
—
photo and recipe from: veggiedesserts.com/jerusalem-artichoke-soup