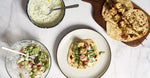 This Greek chicken is great in a wrap, on a salad, or with a side of rice or potatoes. Make sure to try the homemade tzatziki with Farm Fresh cucumbers - you'll never buy it from the grocery store again!
Greek Chicken Bites with Tzatziki
1 lb chicken breasts cut into 1'' pieces (about 2 breasts)
2 T oil
Juice & zest of 1 lemon (2T juice & 1t zest)
2 cloves garlic, minced
2 t oregano
1 t salt
Black pepper
¼ C white wine, broth or water
Mix the marinade (oil, lemon + spices) & marinate the chicken for at least 20 minutes, preferably 2-24 hours
Heat a large skillet until very hot. Spread out the chicken in an even layer. Cook without disturbing for 5 minutes. Flip & cook on the other side for 5 more minutes until cooked (to 165 degrees F)
Pour the broth & deglaze the bottom of the skillet to loosen all the stuck-on browned bits while coating the chicken in them. Continue sautéing until most liquid is evaporated.
Serve with coleslaw, naan bread or in salad & make sure to try this tzatziki.
Tzatziki
Grate 1 cucumber (peeled, seeded), sprinkle with salt & toss gently. Place a towel on top of cucumber with a heavy weight on top. Let sit for 5 minutes. Place cucumber in a towel & wring it out.
Mix 2 C greek yogurt, ½ t salt, 2T oil, 1 minced garlic cloves, 2T fresh dill/mint/chives, 2T lemon juice. Mix with the cucumber.
www.bowlofdelicious.com/greek-chicken-bites