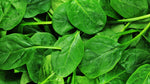 This dish has it all: the delicious spinach/feta combo, protein from the eggs, it's easy-to-make &, most importantly, it's delicious!
Spanakopita Pasta
8 oz/2 C spaghetti
4T butter, divided
3 green onions, thinly sliced
16 oz (2xFarm Fresh size bags) spinach
2 eggs
6 oz/ 1 C feta cheese, crumbled
¼ c dill or mint or parsley, chopped
¼ t pepper & salt
Juice (3T) & zest of 1 lemon
Cook pasta in salted water until 1 min before it's al dente.
Melt 2 T of butter in a large deep skillet. Add the green onions, sauté over medium heat until softened. Add spinach, sauté until liquid has evaporated.
In a small bowl, mix herbs, eggs, lemon zest, half the feta, pepper & salt
After the pasta has cooked, reserve 2 C cooking water & add the pasta to the skillet with the spinach. Continue cooking over medium heat, add the feta/egg/herb mix + ½ C pasta water.
Stir to coat until the eggs has cooked & covered all of the pasta. Add liquid if necessary. The pasta will finish cooking here.
Once all cooked, add remaining butter & lemon juice. Top with remaining feta, extra herbs, olive oil.