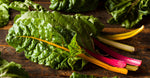 Garlic Scape, Cilantro, Swiss Chard Pesto

1 bunch garlic scapes or 2 cloves garlic, minced
1 bunch swiss chard, leaves only
1 bunch cilantro, stems removed & washed well
2/3 C extra-virgin olive oil
salt & pepper to taste 
-
Blanch swiss chard leaves in boiling water for 30 seconds, just to remove chalky taste. Rinse under cold water & squeeze out water.

Put blanched swiss chard, garlic & cilantro in the bowl of a food processor & process until still slightly chunky.

Gradually pour olive oil into feeder tube & continue processing until smooth. Season with salt & pepper.



jeanetteshealthyliving.com/garlic-scape-cilantro-swiss-chard-pesto