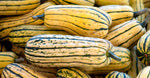 Delicata squash is great for a few reasons; you can eat the skin, they cook fast, & they are sooo sweet! This is how I like them the best. You could also cut them in half lengthwise and make little boat with this filling (omitting the squash) and top with cheese.
1-2 delicata squash, halved, de seeded and cut in ½" strips
½ bunch of kale, chopped or 1 broccoli
Ground meat
1 onion, finely chopped
1 bunch of fresh sage, chopped
1" piece fresh ginger, chopped
1 garlic clove, finely chopped
Soy sauce
Toasted sesame oil
Sour cream & hot sauce for garnish
In a large frying pan add a small amount of oil and heat over medium. Add the chopped onion, garlic & sage, cook for a few minutes until onion is translucent. Add ground meat & squash, cook until everything is cooked through. Add chopped kale towards end of cooking time, let wilt. Season with soy sauce & sesame oil. Serve with rice, quinoa, or bulgur.
To make squash boats:
Slice squash in half lengthwise & remove seeds. Make filling as above, without adding squash. Once filling is cooked, fill squash halves, top with grated cheese & bake covered for 30min or until squash is fully cooked.