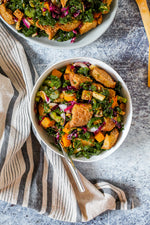 This fall panzanella salad with tempeh and maple mustard dressing from
Up Beet Kitchen
is bursting with seasonal goodness, including roasted squash, apples, kale, onion, cabbage, and celery. Enjoy as a meal-sized salad or as a side dish. This salad is perfect for Thanksgiving get-togethers, and an ideal way to save some less-than-fresh bread from ending up in the compost bin!
Serves 8-10. Feel free to halve the recipe for a more modest amount. 

Fall Panzanella with Tempeh and Maple Mustard Dressing
Ingredients:

8 cups cubed day-old sourdough bread (1/2-inch cubes)
¼ cup nutritional yeast
2 teaspoons dried rosemary
1 teaspoon garlic powder
½ teaspoon sea salt
2 tablespoons extra virgin olive oil 
3 cups cubed peeled butternut squash (1/2-inch cubes)
8 oz tempeh, cubed 
4 celery ribs, sliced 
2 cups shredded cabbage
1 apple, chopped 
1 medium bunch of kale, stemmed and shredded 
½ cup toasted pumpkin seeds or nuts 
½ cup sauerkraut, sliced olives, or feta
Maple Mustard Dressing:

1/3 cup extra virgin olive oil 
Juice of 1 lemon
2 tablespoons balsamic vinegar
2 tablespoons whole grain mustard
2 tablespoons tamari
2 tablespoons maple syrup
2 garlic cloves, minced
Sea salt and freshly cracked black pepper
Instructions: 
Preheat the oven to 350 F. Place the bread cubes in a large bowl. Sprinkle with nutritional yeast, rosemary, garlic powder, salt, and pepper and drizzle the olive oil over top. Toss to coat. Spread out on a large rimmed baking sheet and bake for 12-15 minutes, stirring halfway through, until golden and fragrant. 

Increase the oven temperature to 425 F. 

Place the cubed squash on one half of a second large, rimmed baking sheet and the cubed tempeh on the other half. 

Mix up the dressing:

Combine the oil, lemon, balsamic, maple syrup, mustard, tamari, garlic, and a pinch of salt and pepper in a jar. Secure the lid and shake to combine. Pour ¼ cup of the dressing over the tempeh and toss to coat. Drizzle the squash with about ½ tablespoon of extra virgin olive oil and sprinkle with salt and pepper. Toss to coat. Place in the oven. Remove the tempeh after 15 minutes and transfer into a very large bowl. Return the squash to the oven for another 5-10 minutes, until tender.

Once the squash is ready, add it to the bowl of tempeh, along with the bread. Add the remaining ingredients (celery, cabbage, apple, kale, pumpkin seeds, and sauerkraut). Add the dressing and toss to incorporate. I like to "massage" the dressing into the kale so that it gets nice and tender. 

Eat and enjoy!