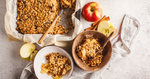 Caramel Apple Crumble
Isthere anyhing more autumnal than a bowl of warm apple crumble made with locally grown apples? This is Jolianne's favourite apple crumble recipe, which is full of sweet and delicious apple filling and crumbly topping, but free of refined sugar and gluten.

Apple Caramel Filling

4 Apples*, peeled & sliced
1 c Maple syrup*
1 c Cream (I used almond milk with great result)
3 T Arrowroot or cornstarch
    -
Cook the apples in a heavy bottomed pot until very tender.
In another pan, boil the maple syrup. Add the cream or milk to boiling maple syrup. Mix arrowroot or cornstarch with a bit of milk then add to the syrup mix, stirring well until it is thickened.
Place the apples & then the caramel into a 9" pyrex pie plate.
Oat Crumble Topping
2 c Oats
1 c Almond flour or wheat flour
½ c Maple syrup*
½ c Apple sauce
½ c Pecans
½ c Butter or coconut oil
    -

Mix well, put on top of the apple mixture & bake at 350 for 40min.