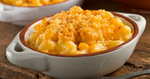 As the weather turns towards autumn, our kitchen begins to fill with the warming scent of winter squash. This vegan mac and cheese might be dairy free, but the butternut squash ensures it's filled with flavour and the comforting creaminess you know and love.
Vegan Butternut Squash Mac & Cheese
1 ½ - 2lbs butternut squash* (~1 medium), peeled & cubed
2 T olive oil, divided
3 cloves garlic*, coarsely chopped
½ c coconut milk
1 ¼ c unsweetened almond milk, homemade or store-bought
½ c plus 2 T large-flake nutritional yeast
1 T arrowroot powder
¼ t smoked paprika
2 T freshly squeezed lemon juice
1 T miso
1 pound elbow pasta
1 bunch kale, coarsely chopped
1 bunch parsley, chopped
½ c dry breadcrumbs
    -
Preheat the oven to 400°F. Oil a 7 by 11-inch pan.
Coat squash with 1 T olive oil & spread evenly on rimmed baking sheet. Sprinkle with salt & pepper. Bake 30-35 min, until very tender & starting to brown. Remove from oven & decrease oven temp to 350°F.
Heat remaining T of olive oil in small saucepan over medium-low heat. Add garlic & sauté for 2-3 min. Add coconut milk & 3⁄4 c almond milk. Whisk in nutritional yeast & arrowroot powder. Cook, whisking constantly until thickened, about 5 min. Transfer sauce to a large bowl & add remaining almond milk, butternut squash, 1 t of salt, 1⁄4 t of pepper, paprika, lemon juice, & miso. Transfer to blender or food processor & process until smooth and creamy.
Cook pasta to al dente in salted water.
Mix pasta & sauce, spread evenly in prepared pan & scatter the breadcrumbs evenly over the top.
Bake for 20 minutes, until the top is golden. Serve right away.
www.blissfulbasil.com/butternut-squash-mac-and-cheese-from-food52-vegan-by-gena-hamshaw-a-giveaway