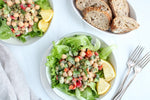 This creamy dill chickpea salad is so easy to make and stays fresh in the fridge for days. Add it to a bed of Farm Fresh greens, throw it in a wrap with some microgreens, or just eat it straight from the bowl. It's that good!
Dill Chickpea Salad
15 oz canned chickpeas - drained and rinsed
1 stalk of celery - diced
2 green onions - chopped
½ red pepper - diced
FOR THE SAUCE:
2 tbsp fresh dill - chopped
1 clove of garlic - crushed
1 tbsp capers - roughly chopped
¼ cup  yogurt (or mayonnaise)

1 tsp dijon mustard
1 tbsp fresh lemon juice - or to taste
1 tsp maple syrup
salt and pepper - to taste
-
Mix all the sauce ingredients together in a medium bowl. Add the rest of the ingredients and mix well.
Keep the leftovers in a airtight container in the fridge for up to 4 days.
Serve on a bed of Farm Fresh greens - kale, arugula, or mesclun.
Inspiration and photo by Plant Based Jess