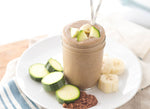 Why add zucchini to smoothies? Because it's zucchini season and on those hot sunny days, a refreshing smoothie loaded with nutrients is just what we need.  Plus, it is easy to freeze in cubes for smoothies all year long. It is surprisingly satisfying to pull some local organic zucchini out of your freezer on a hot May day and make yourself a refreshing drink.
Why not try one of these Zucchini Smoothie recipes and see what you think?!
Chocolate Peanut Butter Zucchini Smoothie
1/2 banana
1/2 C chopped raw zucchini
3-4 ice cubes
1 C milk of choice
2 t cocoa powder
1 T natural peanut butter

1/8 t vanilla
2 t pure maple syrup
-
Place all ingredients in a blender and blend for at least one minute, or until the ingredients are completely combined and the smoothie is creamy.
Inspired by Homemade Nutrition
-
Zucchini Bread Smoothie
1 C unsweetened vanilla almond milk
¼ C old-fashioned rolled oats
½ t ground cinnamon
pinch of ground nutmeg
⅛ C raw walnut halves
½ C lightly packed baby spinach leaves
1 C chopped frozen zucchini (about 1 medium)
½ to 1 T pure maple syrup, to taste
ice, if needed
-

Add all the ingredients to a blender and process until smooth. Add additional milk to thin the mixture out / get it going in the blender or ice to thicken it up
Inspired by Cook, Nourish, Bliss