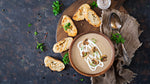 This Cream of Mushroom soup has all the comforting creaminess of a traditional recipe, with a bit of added protein thanks to the addition of white beans. Warming, comforting, nourishing, delicious!
Cream of Mushroom Soup

1 leek, chopped
1 T coconut oil
3 onions, chopped
1 t each, salt and pepper
2 t fresh thyme
4 bay leaves
4 garlic cloves, minced
1 ¾ C cremini mushrooms, quartered
2 C vegetable broth
1 C milk
1 ½ C  any white beans, drained and rinsed
1 ½ t balsamic vinegar
Garlic herb croutons*
---
Melt coconut oil over medium heat in a large pot. Ad onions, leeks, salt, pepper, thyme, and bay leaves. Cook for 5 minutes or until onions and leeks are soft. Add garlic and stir.

Add mushrooms and cook until dark brown and very soft, 10-15 minutes. Add broth and stir.

Blend milk and beans together until smooth. Add the vinegar and ⅓ of the mushroom mixture. Blend until creamy and then pour back into the pot with the remaining mushroom mixture. Reduce heat and simmer for 5 minutes. Thin with water if desired.

Season with plenty of ground pepper and salt and serve with croutons and fresh thyme sprigs.


Garlic herb croutons: Melt 1 ½ t coconut oil over medium heat. Add ½ t garlic and onion powder and ¼ t dried thyme, oregano, and salt. Place 4 cups cubed whole grain bread on  a baking sheet and pour coconut oil mix on top, tossing to coat. Bake at 325 for 35-45 minutes until golden, dry and toasted!