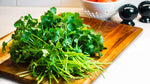 Feeling under the weather? This Cilantro, Spinach & Sweet Potato soup is for you! Filled with nourishing spinach and sweet potato, immune-boosting garlic, and antimicrobial cilantro, this simple soup will give your system the bump it needs to get over any seasonal bug!
Cilantro, Spinach & Sweet Potato Soup
1 T coconut oil
2 onions, chopped
1 t salt
4-5 garlic cloves, miced
2 sweet potatoes, cubed
3 C water
2 C packed spinach
2 C fresh cilantro leaves and stems
1 T lemon juice
1 pinch cayenne pepper
---
Melt the coconut oil in a large stockpot over medium heat. Add the onions and salt and cook for 5-7 minutes. Add the garlic, stir, and cook 1 minute more. Add sweet potatoes and water. 
Bring soup to a boil, reduce heat to low, and simmer until the sweet potatoes are tender, 12-15 minutes.
Transfer to a blender and blend till smooth. Add the spinach, cilantro, lemon, and cayenne, and continue to blend until smooth. Season with salt and serve!


Naturally nourished - sarah britton