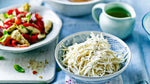 This is simple salad requires a little bit of preparation but very few ingredients. If you want to fancy it up, try adding matchsticks of carrot and finely chopped green onions.
Celeriac Remoulade
650g celeriac*, peeled and sliced into thin matchsticks
1 lemon, juice only
For the dressing
6 tbsp light mayonnaise
1 tbsp Dijon mustard
½ lemon, juice only
pinch of sugar
salt and freshly ground black pepper
    -
Put the celeriac in a bowl & cover with cold water. Add the lemon juice. Toss well to prevent it going brown.

Mix all the dressing ingredients together and season with salt and pepper.

Drain the celeriac, toss in the dressing and leave to soften for 30 minutes before serving.

Tip: Try using a mandoline slicer to prepare the celeriac, it will make the process much faster!