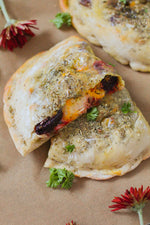 Beet, Pesto, Gouda, and Chicken Calzones
These calzones from Up Beet Kitchen feature sweet roasted beets, pesto, gouda, and chicken for the perfect fall harvest calzone recipe.

Makes 8 calzones.
Ingredients:

1 batch

Jim Lahey's No-Knead Pizza Dough

Heaping ½ cup pesto (homemade or store-bought)

6 heaping cups cubed beets (1/2-inch cubes)

4 garlic cloves, sliced

2 tablespoons extra-virgin olive oil 

Pinch each sea salt and freshly ground black pepper

2 cups shredded gouda cheese

2 cups diced cooked chicken breast

1 beaten egg, for brushing the calzones

Dried oregano and dried basil, for sprinkling on the calzones
Instructions:

Prepare the pizza dough according to the linked recipe instructions. (This should be done the night before.)

Preheat the oven to 425 F. Place the cubed beets and garlic on a large, rimmed baking sheet lined with parchment paper. Drizzle with olive oil and sprinkle with salt and pepper. Toss to coat. Spread out in an even layer and roast for 25-30 minutes, or until fork tender. 

When ready to make the calzones, preheat the oven to 450 degrees F. If you have a pizza stone, place it in the oven to warm up while the oven is heating. 

Generously flour your counter. The pizza dough is sticky, so flour your hands and transfer it from the bowl onto the floured counter. Use a knife to divide it into 8 equal pieces. 

Take one piece, ensuring that it is generously coated in flour, and use a rolling pin to roll it out into a circle measuring 6-8 inches in diameter. 

Spread 1 heaping tablespoon of pesto over the dough circle, leaving a small amount of room at the edge of the circle. Arrange ½ cup of roasted beets and garlic, ¼ cup of diced chicken, and ¼ cup of shredded cheese on one half of the circle. Fold over into a semi-circle and firmly press down on the edges to close. 

Transfer the calzone onto your hot pizza stone or a large, rimmed baking sheet. Repeat with the remaining dough and fillings. 

Brush the calzones with egg and sprinkle with dried oregano and basil. Use a sharp knife to make 2 or 3 slits on the top of each calzone. 

Bake for 10-15 minutes, or until lightly browned and sizzling. 

Enjoy!