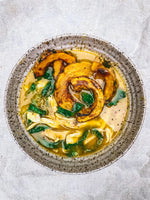 This recipe comes from another farmer who has mastered the art of seasonal, local eating! Andrea Bemis of Tumbleweed Farm in Oregon suggests that this recipe is highly customisable - use whichever winter squash you have on hand, and feel free to swap in kale, collards, cabbage, spinach, or swiss chard if you don't have bok choy.
Ginger Miso Squash & Bok Choy Soup

Squash & Chicken
2 1/2 T olive oil & miso paste
1 1/2 T maple syrup & soy sauce/tamari
1/4 t crushed red pepper flakes
2 Delicata Squash, sliced into 1- inch thick wedges
2 small chicken breasts
Broth/Assembly
1 T olive oil
1 (2") piece fresh ginger, peeled & finely chopped
3 cloves garlic, minced
1/2 bunch green onions, finely chopped
1/2 t crushed red pepper flakes
4-5 C chicken or veggie stock
2 T miso paste
1 head bok choy, greens thinly sliced & stalks roughly chopped
a hefty dash of fermented chili paste or Sriracha
salt & pepper to taste
    -
Preheat the oven to 400F. Blend olive oil, miso, maple syrup, soy sauce & pepper flakes. Place squash & chicken on a rimmed baking sheet, rub squash & chicken all over with dressing. Bake until the squash is tender & chicken is cooked through, 25-30 min. Shred chicken once cool enough to handle.
Heat olive oil in large pot over medium-high heat. Add ginger, garlic, scallions & pepper flakes, cook for 3 min. Add 4 C stock, bring to boil then reduce heat to low simmer.
Reserve half squash wedges for garnish & place the rest into the pot of soup. Add miso & puree the soup.
Add bok choy stems along with shredded chicken to the pot & stir. Simmer for about 5 min. Add bok choy greens & cook until bright green and wilted. Add chilli paste & taste for seasonings. If soup is too thick add more broth as needed. Garnish soup with reserved squash wedges before serving.